This contest is now over. Winners have now been notified. Thank you SO much to all who entered! More fun stuff is on the way!




have a fantastic Thanksgiving,




steph



Hello there! If I did the math correctly (and that's always questionable, since I was an English major) it looks like we have sixteen days until Thanksgiving.


SIXTEEN!


Raise your hand if you're cooking.

Me! I am!
it looks like I'm cooking for 33. That's the most our teeny-tiny house has ever had for a sit-down meal, but I'm not in complete freak out mode (yet).

Mostly because I'm in denial but also because I've got an arsenal of great help thanks to my friends.
I've got some books to give away

FOR FREE(!)

to help you with your Thanksgiving plans.


I'm going to hold one contest for all the books, and will raffle them off one at a time by picking numbers from the random number picker thingamajig. This means that by leaving a comment you are entering to win any one of the following awesome and spectacular books.
You may garner additional entries by tweeting/facebooking/emailing/or blogging about this contest.


(LOL. I used the word "garner" in a sentence..."


anyhow...



FIRST UP:
My friend Tricia at
Once a Month Mom
has compiled an awesome
Thanksgiving/Holiday Planner e-book,
and has generously supplied THREE for this giveaw
a
y
.
This is an awesome planner. Tricia has worked it out so you can shop, prep, and cook for your holi
day meal---for up to 18 people!
This isn't a gluten-free meal guide, but is easily adaptable for those adhering to a gluten
free diet.


SECOND:
Gluten Free Girl and The Chef
by Shauna and Daniel Ahern.
The Aherns are rockstars in the gluten free community, and revolutionaries for everybody else. Gluten free does not mean boring. Gluten free does not mean bland and tasteless. Shauna and Daniel have produced a beautiful book with extraordinary recipes---1 part memoir, and 2 parts cookbook: this is a must-have for all gluten free folks, and for anyone else who just likes darn good food.


THIRD:
The Whole Life Nutrition Cookbook
by
Ali and Tom Segersten.
I met Ali and Tom in October at BlogHer Food, and was immediately impressed at how low-key and REAL they were. I appreciate how their back-to-basics approach to nutrition and whole-food philosophy is vital for both your body and the planet. Every single one of the 200 recipes are ALL gluten-free, dairy-free, and egg-free. SCORE!


FOURTH:
The Gluten Free Almond Flour Cookbook
by
Elana Amsterdam
.
I've given away Elana's book before, and I'm happy to do so again. Elana has perfected the art of us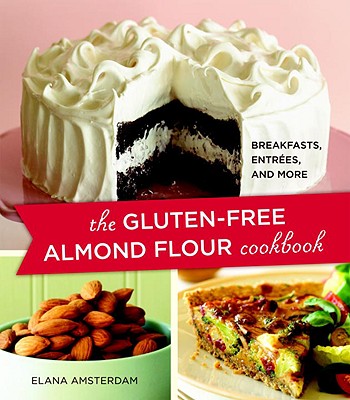 ing almond flour for her baked goods---this results in VERY moist and decadent desserts---and they're packed with protein and good
for you! Elana also demystifies cooking with agave nectar, something I was scared to try before reading her words.
Okay!
This contest will be open until

Monday, November 15 at 5pm pacific.
Please leave a valid email address, or sign into Blogger or OpenID or whatever account you have so I can contact you. I am not collecting these email addresses, and I'll delete all the comments once the winners have been selected and identified.
Happy Cooking!